The advent of Auto-ID technology has enabled electronic labeling and wireless identification of objects, which facilitates real-time product visibility and accurate inventory tracking at all levels of the product life cycle. From supply chain level business processes to shop floor level manufacturing execution, this technology presents many opportunities for process improvement and re-engineering.

In spite of its potential advantages, the major challenge is how to manage such voluminous data in a timely fashion. When proposing new solutions, theoretical studies that assume availability of Auto-ID-based product state and event data need to be supported by experimental studies that demonstrate the feasibility and practicality of collecting such large amounts of data in a certain networking topology using certain protocols in order to make the proposed solution a viable alternative. With this objective in mind, we have developed several demonstration models, which are primarily built on modular hardware and software components that facilitate scalability and encompasses hardware-in-the-loop simulation modules in order to be more realistic.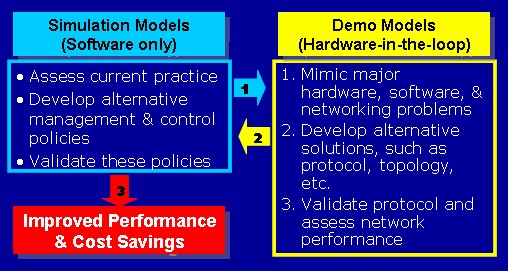 The demo models allow for investigating different Auto-ID data collection, filtering, and analysis techniques, and decision making and control methodologies in a cost effective and timely manner. The solutions validated in these models include a manufacturing application component and a networking component that supports the manufacturing application.